About Us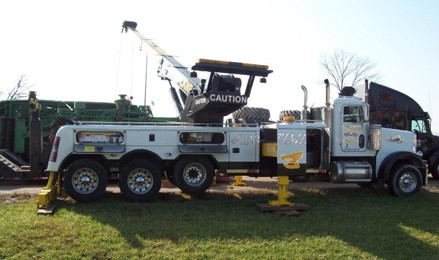 Fastlane Towing Inc. is a family-owned and -operated business. Operations manager Brian Slesinski has over 39 years of experience in the towing and recovery industry. His wife Chris is the office manager, and family members Brian, Dana, Tiffany and Lawrence are involved in day-to-day operations of the towing and automotive divisions.
We are the largest towing company in Collinsville and equipped with the most up-to-date equipment in the area. Our new 75-ton rotator can handle your heavy towing and recovery needs, and our medium- and heavy-duty fleet can handle it all — from local and long distance towing to equipment hauling. Our flatbeds are equipped with four-wheel tie-down systems to haul specialty vehicles such as Vipers, Porsches and Jaguars.
We tow for law enforcement agencies, dealerships, insurance companies and roadside assistance organizations including Agero, Allstate, Nation Safe Drivers, Quest, AAA and others. We welcome private customers as well.
Fastlane Towing Inc. received the 2018 Best of Collinsville award for towing service.
—The Slesinski Family